Hello friends! I hope you all have been having a truly magical spring/summer. I have thought often about you guys over the past month or so. Nearly everyday, in fact, I have thought: I should really check in with everyone and write a blog post soon. And then I thought: Okay, just as soon as I finish gardening, or making soap, or cleaning, or washing dishes, or some other very important obligation…. but the thing is, those obligations never go away. They are always there. There is ALWAYS something that needs done. So I decided, if we are going to make this thing work, I'm just going to have to do it. Just sit down, open my computer and say hi.
And here I am. Sure, the gardens need mulched, the children washed, the poop buckets dumped. But those things can wait (well, maybe not the poop buckets).
Right now, I am saying hi.
Unfortunately (or fortunately?) I do not have a grand plan for this post, so I am making it up on the fly. I thought I could just update everyone about how things are coming along on the homestead, ramble on a bit, and get reacquainted to this whole blogging thing again. But I promise my next post will be truly epic. Maybe.
Compared to winter, spring and summer on the homestead are ahhhmazing. Everyday we wake up to the birds singing, goats baaing, and not a single creepy neighbor in sight. I love to take advantage of the quiet (cool) morning hours, so I let the family sleep in and slip out to the garden for a bit. This I consider my meditation time.
The gardens are looking good, though maybe not great. I have just recently starting adding a lot more organic material to give the 'maters and melons a boost, so I am hoping this will help speed things along.
I don't have a garden fence yet, as Mav is too busy building fences for people that will actually pay him. So the chickens and I have a hate/hate relationship going on right now.

Basically, they like to torture me by eating my cabbage and scratching off all my mulch. Then I come in and spend my time fixing the damage, only to have them come right in after me to damage my fixing. It's kind of like the groundhogs day of gardening. See why I don't have the time to blog? Just blame Mav. Or the chickens. Really, anyone but me will do.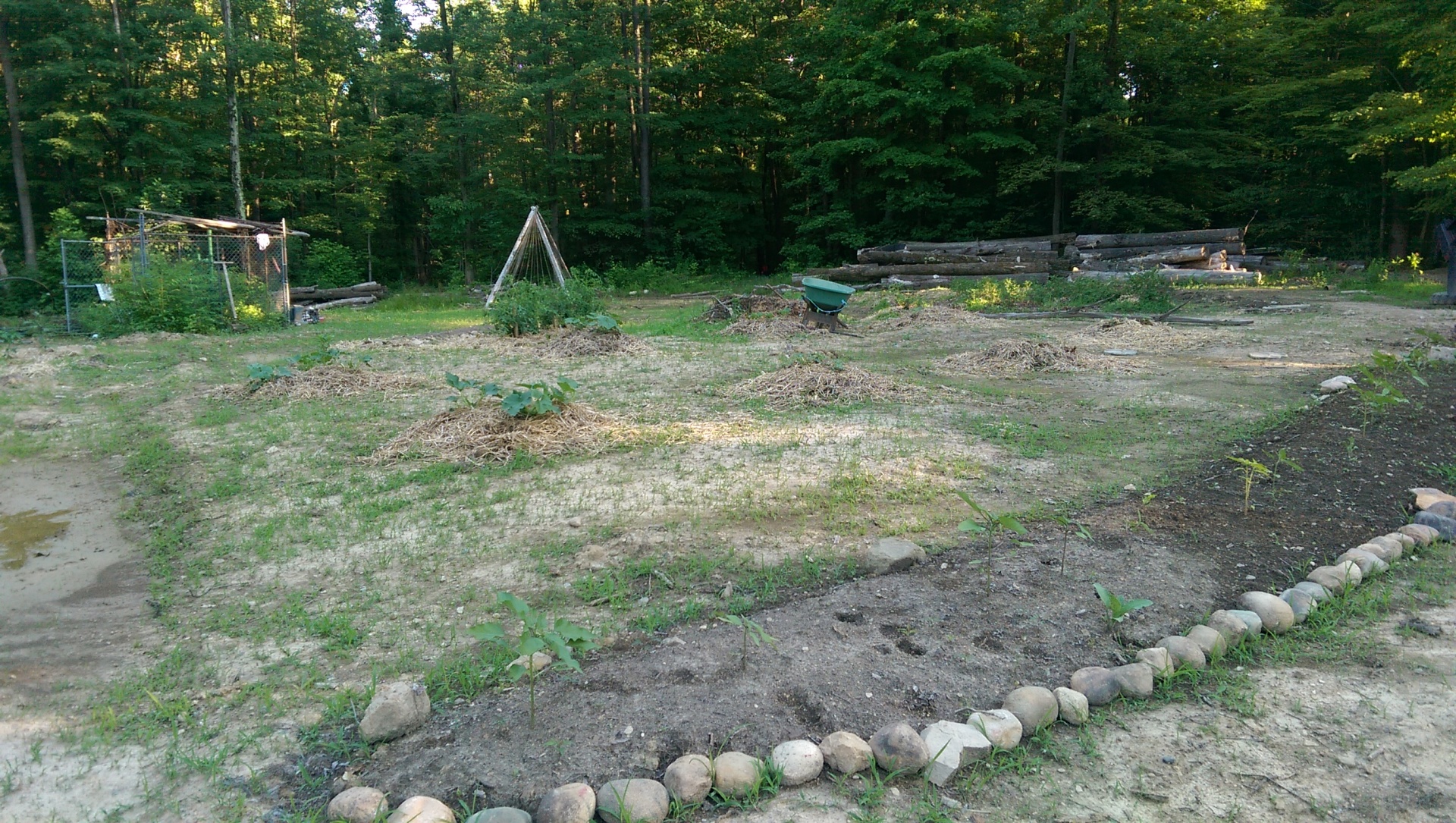 I have also started a Zen garden this year, as I needed an outlet to satisfy my moss obsession. In the spring, I went into the woods and collected a whole bunch of moss. Then, I transplanted it to a shady spot that had a couple of boulders anchoring it to give it that authentic 'Zen' feel. Before I put the moss down, I weeded the area really well, made sure the ground was wet and roughed up a bit. I placed the moss on the ground and used little sticks to stake it into the dirt so it would have a chance to attach itself. For the first couple months, I watered it when it wasn't raining. Once or twice a day, I stepped barefoot on the wet moss to encourage it to attach to the ground. Also, because it feels good on my tootsies (except watch out for the little stakes!). And, surprisingly, it seems to be working. The moss is attaching and spreading slowly, as moss does. A nice, rainy spring has definitely helped.
Of course, I can't just go around playing with moss all day. Ain't nobody got time for that. So, I have had to move on for now and put my energy into something that can actually sustain us (like vegetables). But in the fall, I plan to add more moss and make it the most magical Zen garden this side of the Cuyahoga.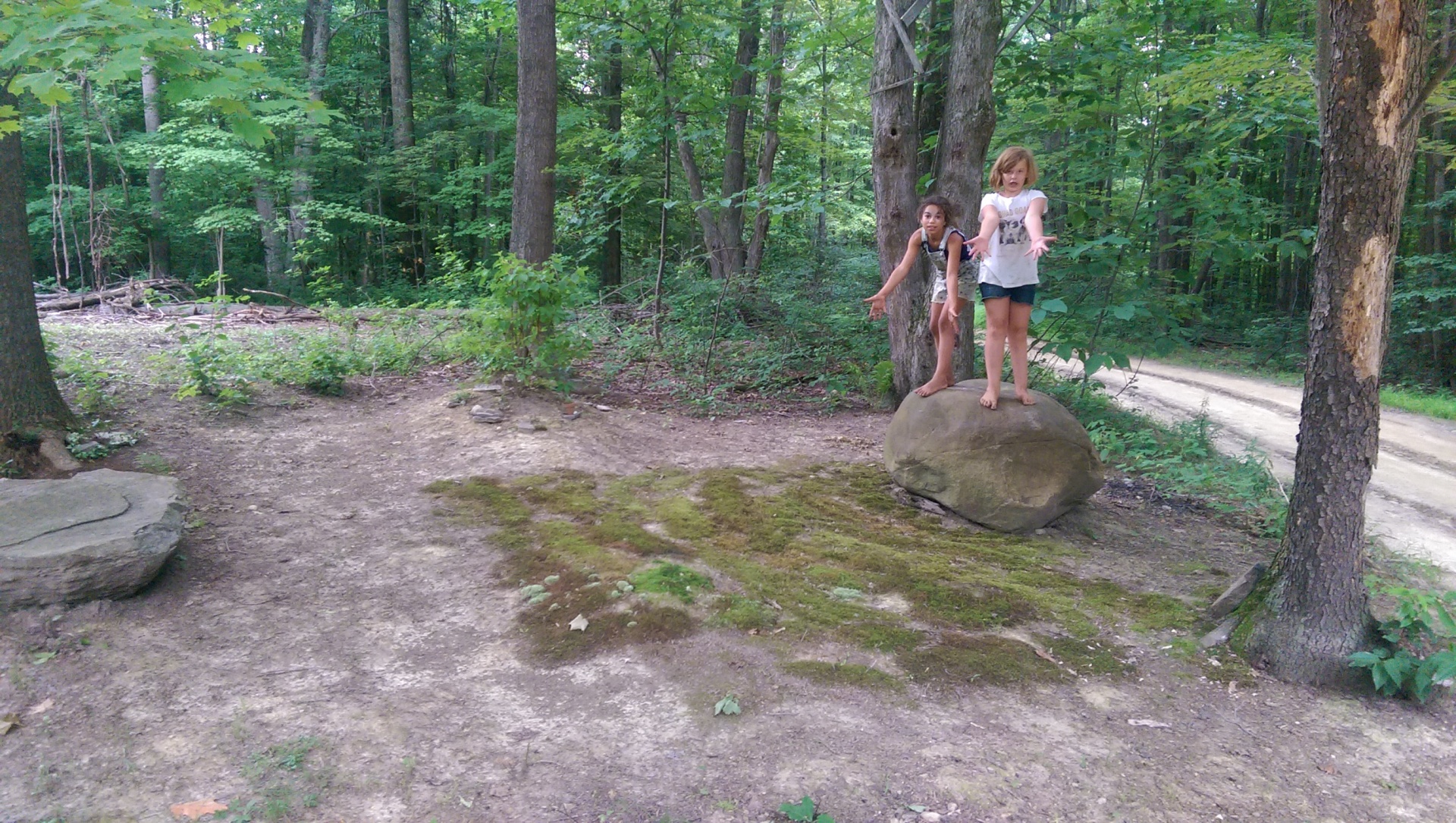 We added two sweet goats to our family recently. Which tripled the size of our herd. We have plans to hire a hunky stud in the fall to service the ladies so that we can have adorable babies in the spring. Oh yeah, and goat milk.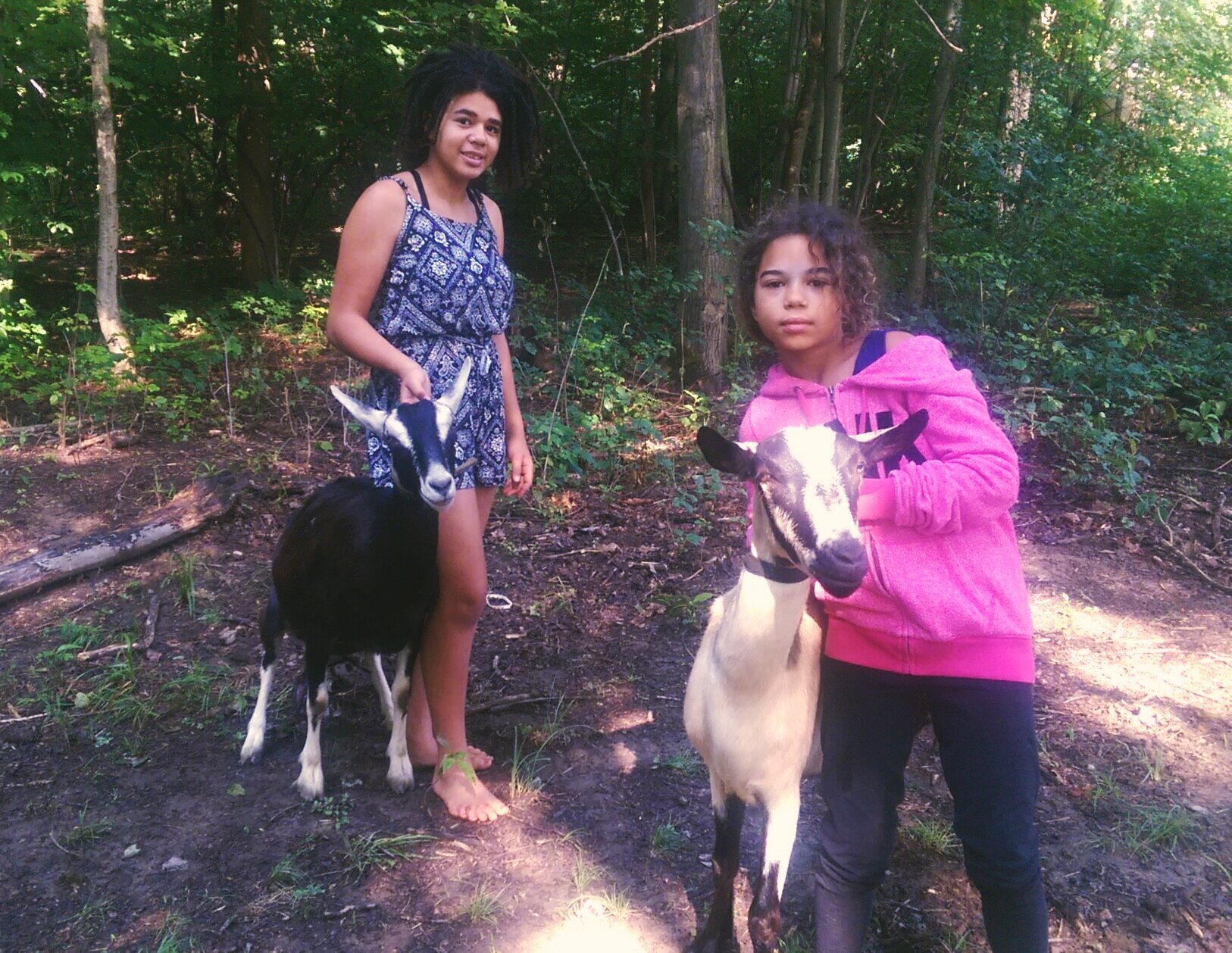 My sister just came for a visit, bless her delicate soul. It rained the entire time. She's the best though, I totally appreciate her succumbing to the experience. I expect to see her up here again sometime around never.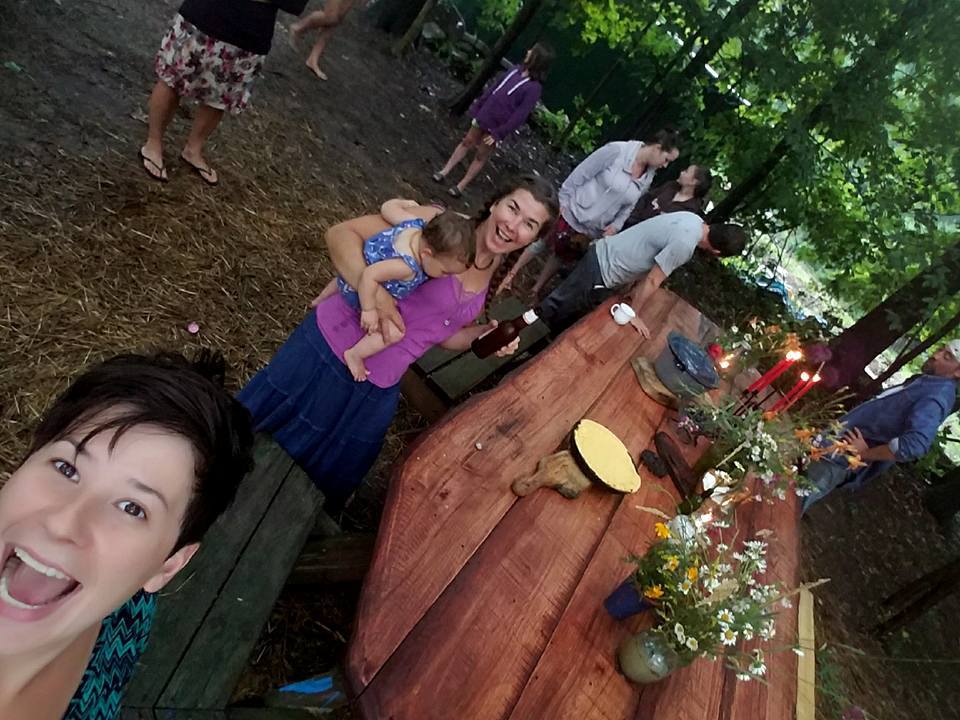 And just to make you indoor-plumbing people jealous, here is a picture of the enchanted table my love built for me. Hello dinner parties.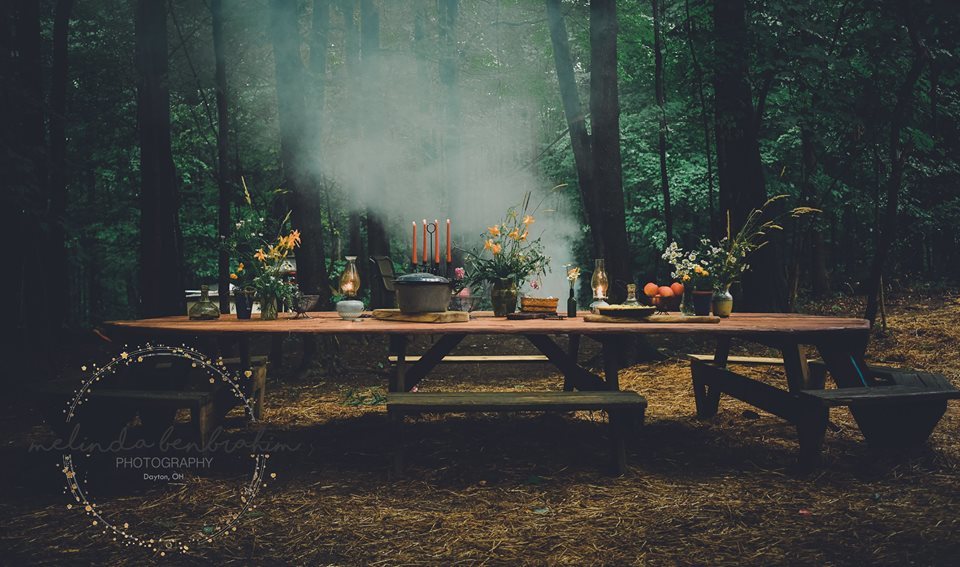 We are doing the farmer's market again this year. It's a lot of work at times, but the kids love it. It also forces me to leave the woods and talk to people at least once a week – so in a way it's therapy. Because it is such a small little market, I don't have to worry about being a very good business woman either. I just sell what I got if I got it, smile, and talk out of my ass for four hours. Good times.
The house and bath house are coming along really well. Not so much physically, as much as in our hearts. Matt is crazy busy at work right now, so the time he has to build me a house is a bit restricted at the moment. However, we are still absolutely planning to be in the house before 'that season which we do not speak of' comes again. Or people will die. Mav, are you reading this?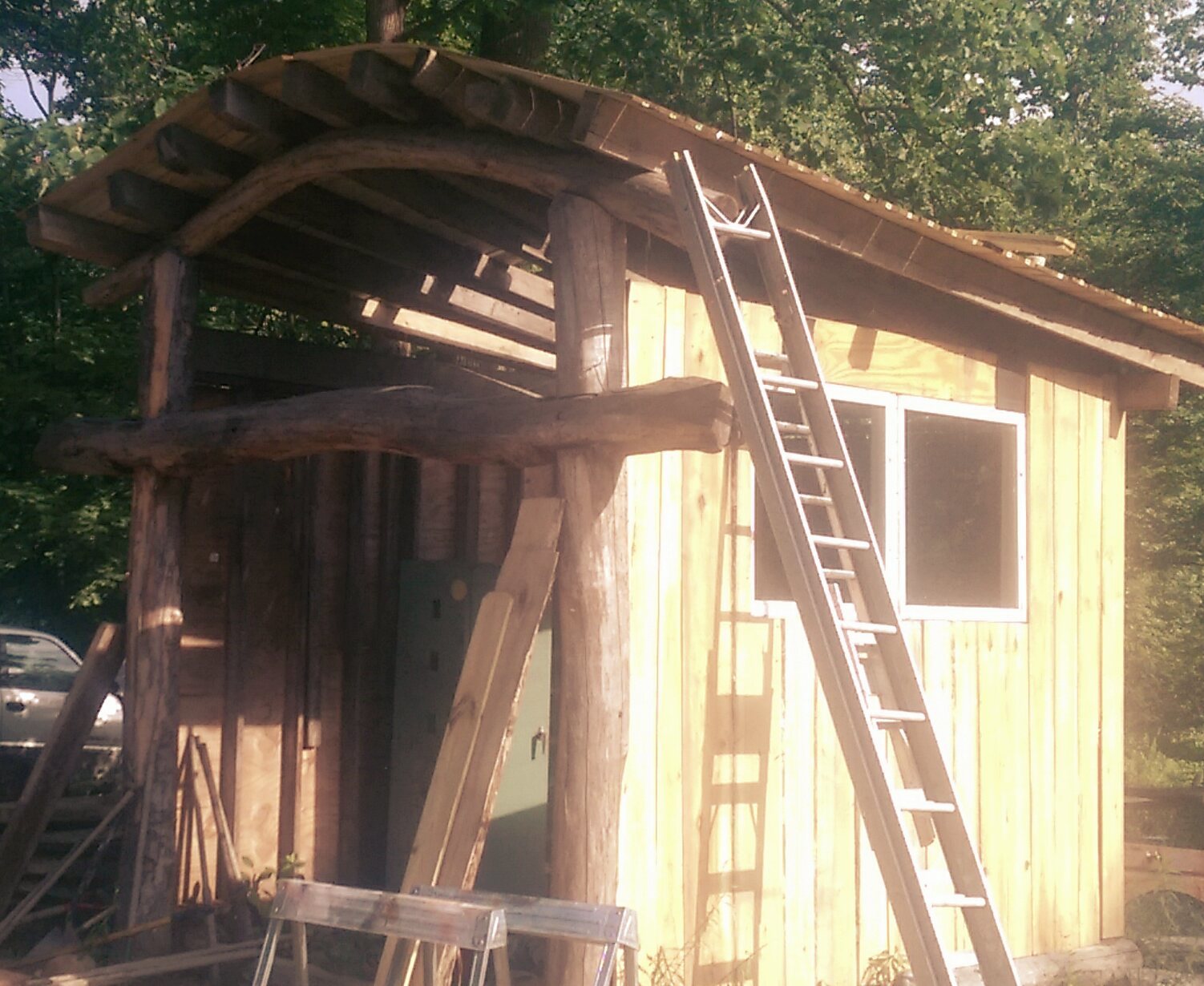 Ok, well this blog post has taken enough of my time today. I really have things to do, like curse the chickens and whine about the mess. It's been great friends, we really have to do this more often.
How have you guys been doing? I hope you are enjoying the ups and downs of life. No matter how busy you are, be sure to get your nature time in! It makes everything else so much more manageable, don't you agree sis?
***This was Spring 2017***. Read the update here