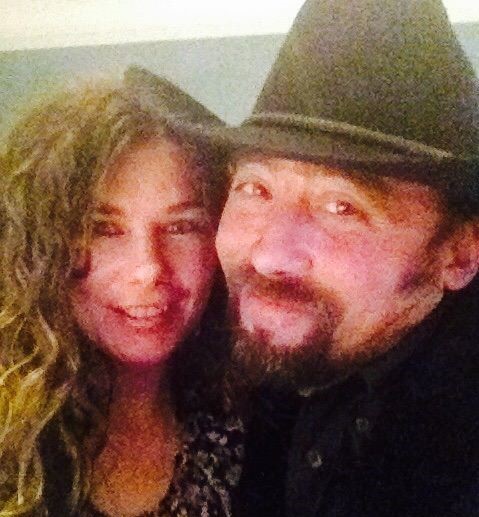 Five years ago I met Maverick, my (mostly) vegetarian cowboy; the man who is making my dreams come true by building me an off-grid, sustainable community surrounded by nature with only his bare hands… and a bulldozer.

While many people say our successful union was a stroke of blind luck, the very fact he isn't a serial killer (so far…) defying all odds, I like to believe our meeting each other was a result of one of my more successful incidents of deliberate manifestation. Either way, one thing is for sure, our 'how we met' story is so utterly unromantic and scandalous that it makes the perfect story for today's blog post.

Before Maverick, I had dated my share of questionable characters (shocking, I know). Some of these guys were pretty terrible, some were just the typical zombie-types, devoid of any meaningful, independent thoughts. To be fair, it takes one to date one, so I could only describe myself as a zombie as well.
Anyway, after having an epic awakening followed by the crumbling of my latest zombie relationship, I moved north with my girls to explore community farm life and learn to grow my own food. We moved into a tiny primitive cabin (or shack as Mav likes to call it) on a small farm in a quaint country town in mid-west, America.
It was a bold move to be sure, some would even call it reckless. Yet it remains to be one of the best decisions of my life.

I spent an idyllic spring and summer pulling weeds and tending seeds (both figuratively and literally), eventually deciding I felt emotionally healthy enough to meet someone great. I had dumped some baggage (though come to find out, not all of it!) and was confident in my newfound creative abilities to attract a great mate into my experience.

So now that I was ready to date, the question was, where would I meet someone? After all, I lived in a tiny cabin on a farm in a city where I did not know anyone. I was not working outside of the farm. My hosts were great and I was quickly becoming best friends with the head lady of the farm. But her husband was oooolllldddd. Like just-suffered-a-heart-attack old. And so were all his friends. (In the interest of full disclosure the odd social structure on the farm consisted of a lot of young, lively, fit farm girls and a handful of really old dudes. It's no surprise my city friends were convinced I had joined a cult!)

Anyway, back to the love story…
I am not a very patient person. When I make a decision, it pretty much has to happen right now. So once I had decided to meet someone, I was not content to just wait for fate to bring him to me. Taking a proactive approach to dating clearly left me with only one option: Online dating. (This was in 2013, just as dating apps were really gaining in popularity. Good thing I am usually a few years behind the latest trends or Mav and I might have never met seeing as how he still carries a flip phone).
So I crafted a clever profile, with vegetarinism and cowboyism a clear prerequisite, and joined a popular dating site (or two). However, the selections were very few and far between of people who shared any of my interests (who wants to go roam the woods barefoot? … anyone?)

I met a few guys that could never be pinned down to an actual date or were, um, a bit different than their pictures. Yet not a single cowboy. Basically, the process was long and drawn out and not worth the money. I felt using the dating sites just served as a buffer to immediate communication and actual interaction. Looking back, I wonder if maybe it also served as some sort of safety feature… hmm…

So, I decided to take matters into my own hands and create a Craigslist Personals Ad.
Now I know you are all gasping in absolute horror.
And I agree, Craigslist personals are teeming with filth and debauchery of all kind. But seriously guys, it is not like I advertised my address or any other personal information. I also did not include a picture or make any references to sexual fetishes. It's all good, people. Calm down.

What I did do is remain 100% convinced that I could find an amazing person anywhere I put my mind to, as long as I believed.
So, yes. Maverick and I met on Craigslist. I put out an add, he ignored my very specific qualifications (vegetarian, yo!) and responded. I decided to overlook my non-negotiable standards based on the fact that he owned a huge lot of land and seemed willing to let me do whatever I wanted with it.
From the very beginning, our dates have consisted of wondering aimlessly around the woods. That is literally all we do, other than the whole homesteading thing. He has more patience with me than my own mother. He never yells or demeans me when I lose the car keys, or my driver's license, or drain the batteries for the millionth time (okay, well, he does lose his patience over that one, but the first 100 times he didn't even bat an eye).
Seriously though, Maverick is 100 percent dirty cowboy, 90 percent vegetarian (thanks to my many years of food shaming him), and the sweetest, kindest, safest, calmest, pure-of-heartist man I have ever met. He is so amazingly capable and smart and warrior-minded, I have full confidence we would survive a zombie apocalypse completely unscathed. He is my knight in dirty work boots.

And there you have the most epic, unromantic love story of all time. Swoon.
Remember, if you want miracles to happen you have to BELIEVE they can.

P.S. This post is in no way an endorsement for Craigslist Personals or any other form of online dating. It's just a story, people. Date at your own risk!

Namaste, my friends

_____________________________________________________________________________________________________________________________________________