Ok friends here we have quite possibly one of the most important How To tutorials of your off-grid extreme homesteading life… dishes. Yes, that's right. More important than solar power, more important than growing food, more important than a composting toilet (ok, now I am exaggerating) is doing your dishes.
After all, dishes make the world go 'round and it is nary a homesteading woman who can live without clean dishes. Unfortunately, they have a tendency to multiply right before your very eyes, popping out dirty creations like the gremlin spawn of a mogwai. And, like a gremlin, they sneer and snarl at you from their crusty perch on the counter, daring you to just try and wash them without running water.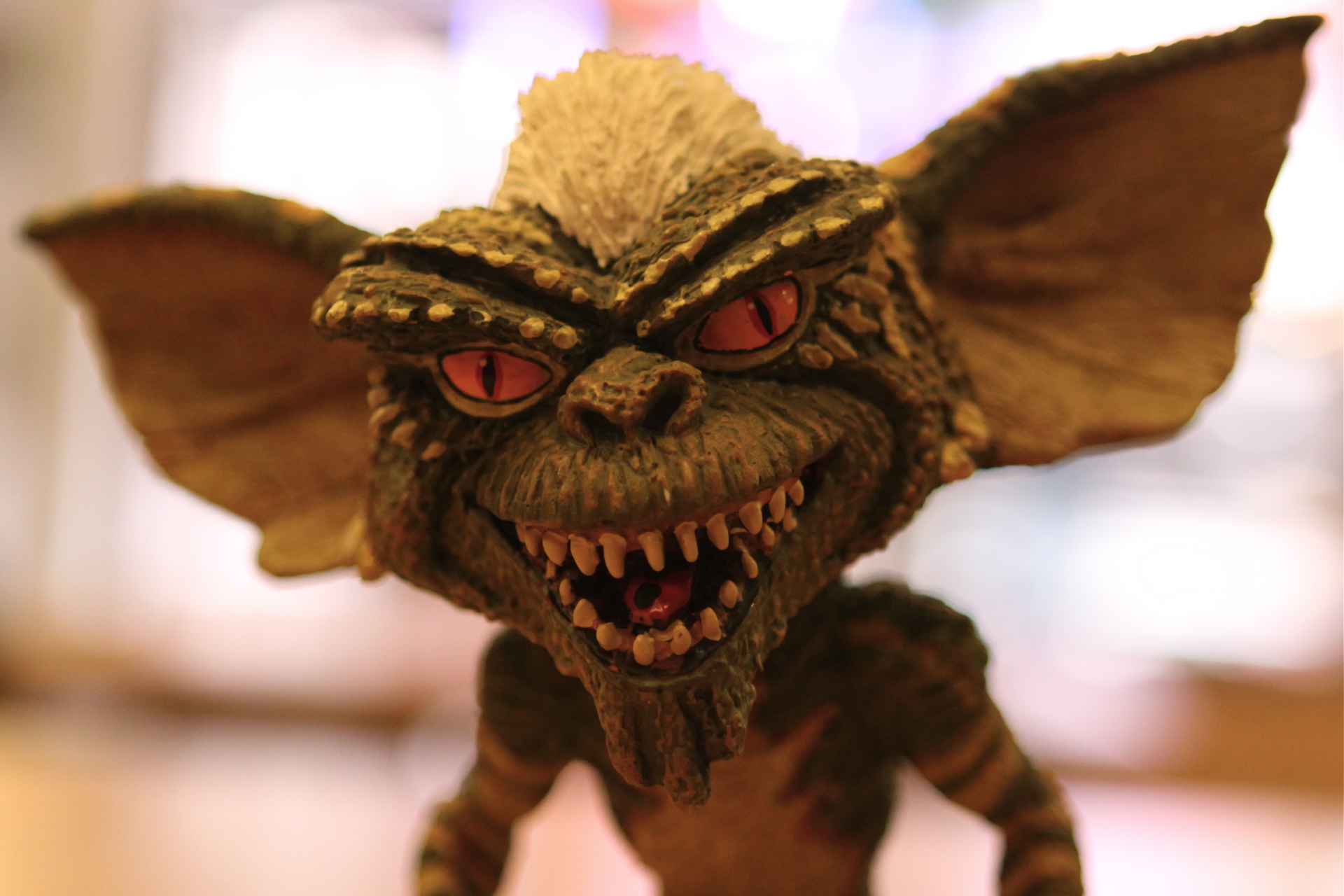 Fear not, my extreme homesteading friends (or weekend campers), as I have found a pretty decent way to wash your dishes without running water. All you need are the right tools and set up and those evil dishes will no longer have you sleeping with one eye open.
Step 1: Get a Gigantic Pot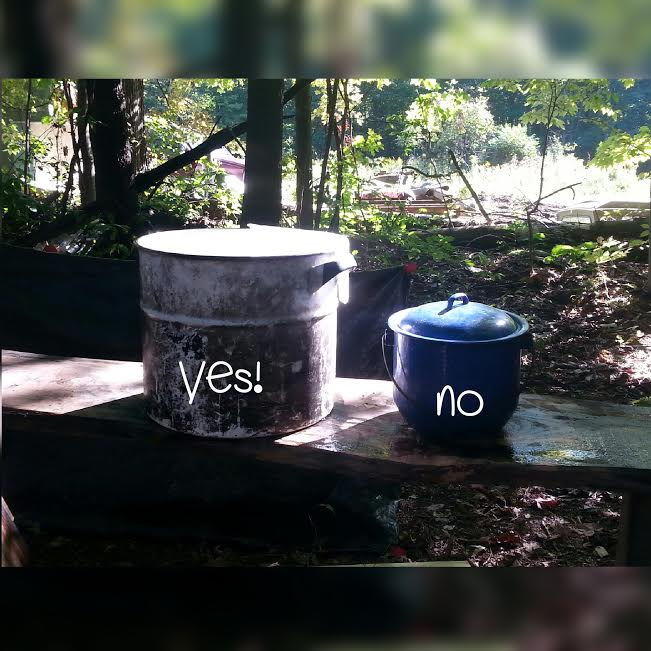 There is one key item to doing your dishes without running water quickly and efficiently and that is the Gigantic Pot. The Gigantic Pot is absolutely essential if you don't want to spend an entire day heating up small batches of water. And believe me, you don't. I started off with a Small Pot, and I was not happy. The Gigantic Pot brings me much joy.
Step 2: Get a Long, Crappy Table
Okay so you have your Gigantic Pot. Now you need a long, crappy table. I say crappy table because if you can do your dishes outside on a crappy table, you can slosh water all over the place – which tends to make you feel better about having to do your dishes outside on a crappy table. Get it? I have a nice, crappy eight foot long table that is the perfect length for our size family, or for my lazy housekeeping habits, whichever way you want to look at it. So technically you could use a smaller table and you can also use your actual sink and counter area, but that's a little boring, don't you think?
Step 3: Set Up Dish Area.
First, there are a few other things you will need:
Two basins, one for washing and one for rinsing. These are what I currently use. I know they don't match. Don't judge me.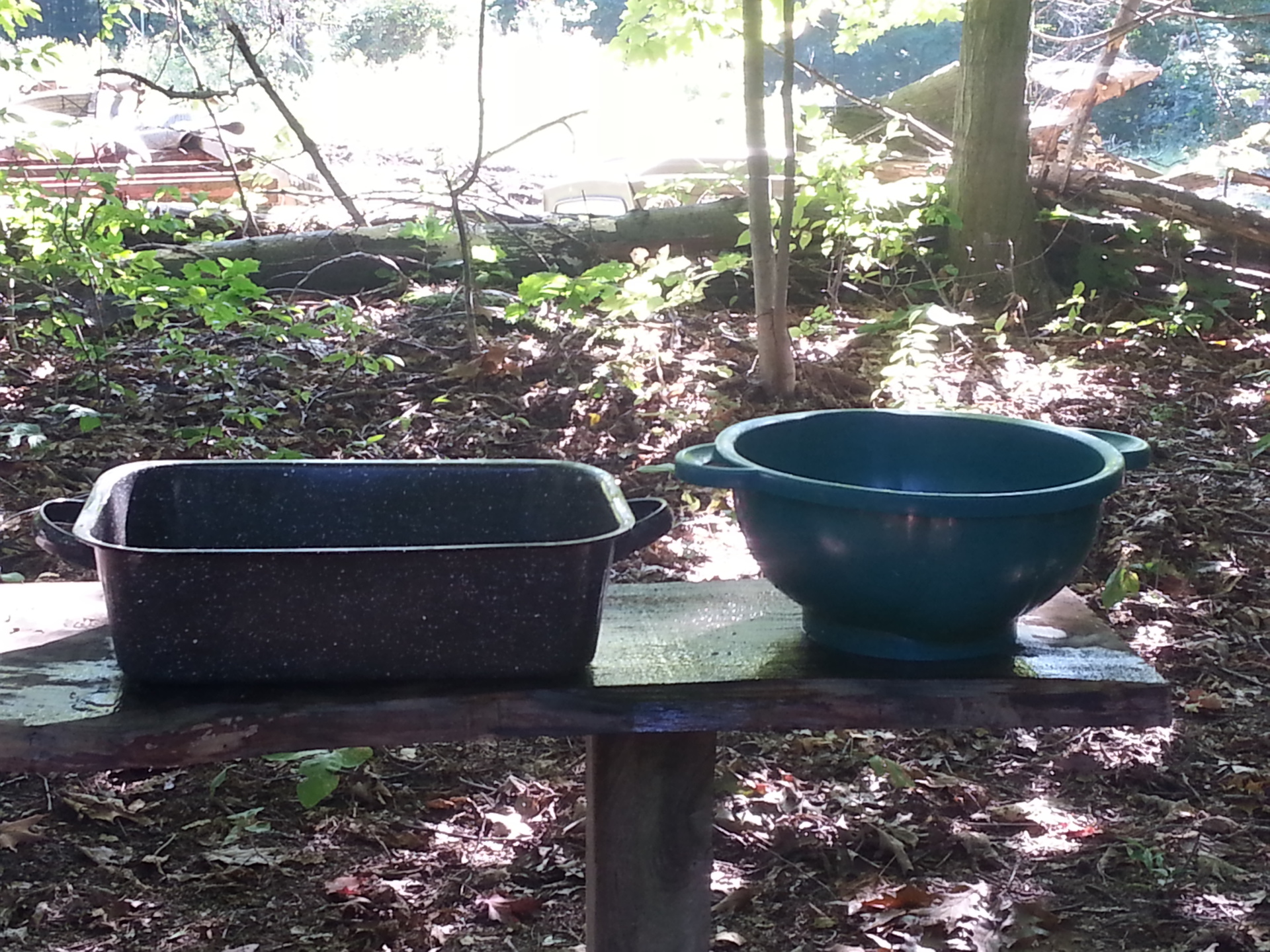 2. A cup with a handle for scooping hot water out of the Gigantic Pot into the wash basin. I use this measuring cup which conveniently hooks right on the handle of my pot when not in use. A match made in heaven.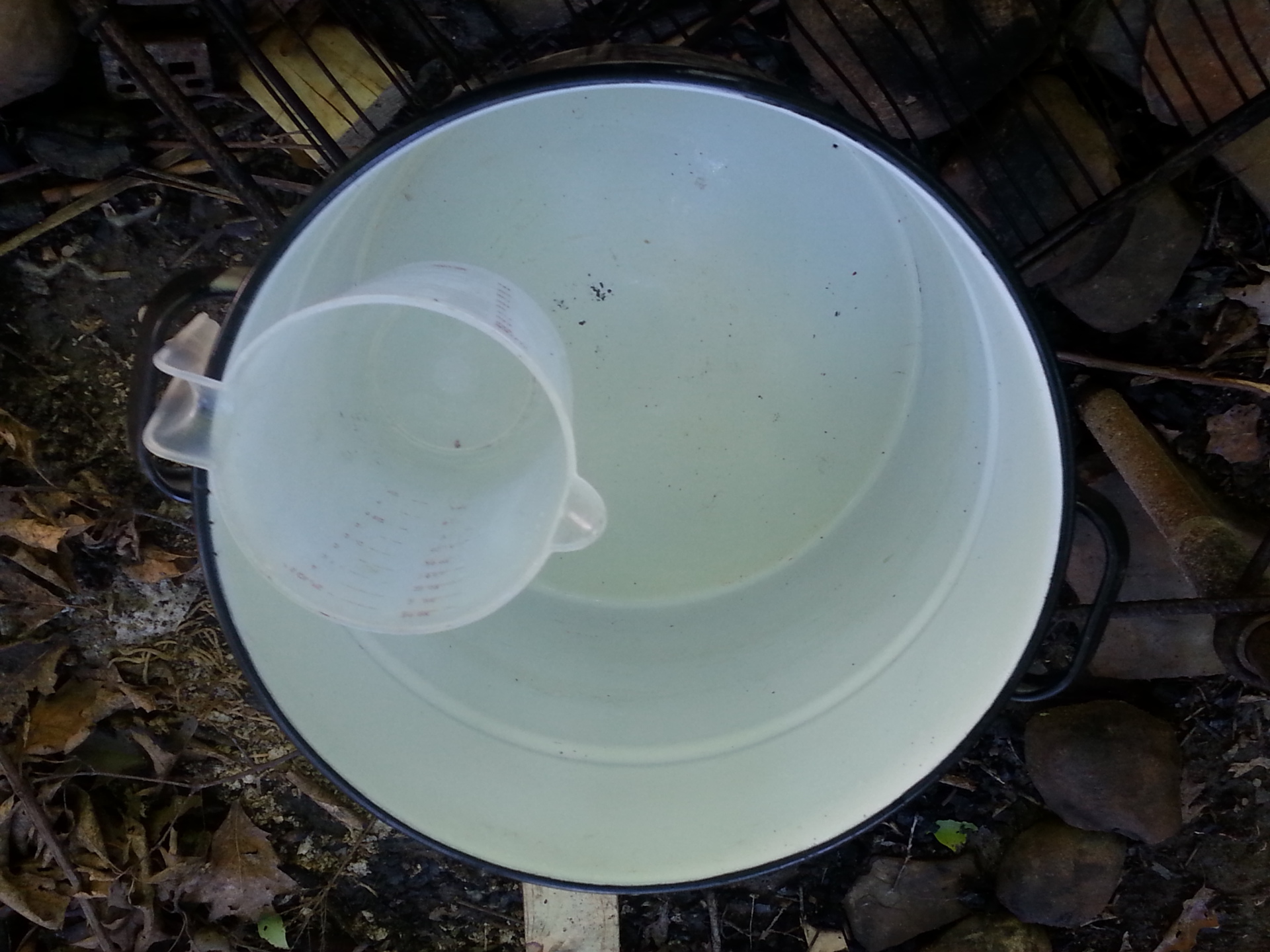 3. A jug (or two, depending on your dish load) of clean, cool rinse water next to your rinse basin
4. A sponge or rag to wash dishes and some biodegrable dish soap
5. A drying rack and/or large towel
6. A large bucket to dump dirty dish water into (another option is to just dump directly onto the ground if you are outside and it won't create a mess.)
7. Compost container to scrape your food scraps into.
Step 4: Heat Up Water
Now we are ready to get to work. I will forewarn you, I like my dish water hot and clean, so I refresh often. I use anywhere from 2-4 gallons of hot water, depending on the dish load. I usually heat up more water than I need, because is saves time and hey I can always take a shower after.
Pour water in your pot and heat it up. One of the many blessings in my extreme homesteading life is my (nearly) full-size propane stove. So heating things up is easy peasy (until we run out of propane right in the middle of making dinner. that is). I just put my Gigantic Pot on the stove, turn two burners on and it heats up quick.
If you don't have stove yet, you might want to look into getting a portable burner used for camping, if you plan on cooking more than once a week. Of course, if you want to (or need to), you can always go to the maximum extreme and heat your water up over an actual fire (technically the maximum extreme would be rubbing two sticks together to start said fire, but I digress). As romantic as it sounds, however, it's really a pain in the ass to do everyday. But I have done it and so can you.
However your go about it, the important thing is to get your water HOT. That way it stays nice and hot until the last dirty dish has been hunted down. If your water gets too cool, it is a hassle to reheat and you run the chance of loosing motivation and not finishing the dishes, which does not feel nearly as satisfying as finishing the dishes.
Now scoop your hot water into your wash basin and pour cool water in the rinse basin. If the water is too hot (which it should be if you have been following directions) mix it with a little of the cool water until you get the right temperature. As you work your way down the dirty mountain, the water should cool off to a reasonable temperature. Better hot than not, I say.
Step 5: Wash Your Dishes
Now you wash your dishes. I like to move from the left to right, but to each his own. As your wash basin water cools down and gets dirty, dump it into the waiting receptacle or onto the ground if you prefer and refill with fresh hot water. Same with your rinse water, if it gets too soapy. Finish all the dishes. All of them. It feels good, remember?
Step 6: Call In The Troops
This is about the time I start yelling for Maverick and the girls. Maverick, with his strong shapely arms and equally strong stomach, gets to dump the teeming bucket of dirty dish water. We like to dump it right into the garden beds. depending on the chunks. Yum.
Now its the minions' turn to help. Remember how we were doing the dishes outside? Well they are the lucky ones that get to haul the clean dishes back inside, put them away all nice and neat and then hang the dish towel on the line to dry until we need it again for a new table-load of dirty dishes, usually about ten minutes later I'd say.
Well there really is no glamorous way to end a dish tutorial, so bye!